Kadam Dam
Kadam Dam Gallery
Kadam Dam
Kadam Dam
Kadam Dam
Kadam Dam
Kadam Dam
Kadam Dam
Kadam Dam
Kadam Dam
Kadam Dam
Kadam Dam
Kadam Dam
Kadam Dam - Park
Kadam Dam - Park
Kadam Dam
Kadam Dam
Kadam Dam
Kadam Dam
Kadam Dam
Kadam Dam
Kadam Dam
Kadam Dam
Kadam Dam
Kadam Dam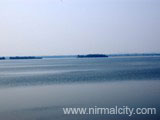 Kadam Dam
Kadam Dam
Kadam Dam
Kadam Dam
Kadam Dam
Kadam Dam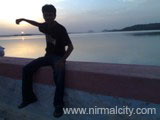 Kadam Dam
Kadam Dam
Kadam Dam
History
Kadam Dam
The Kadam Project is an existing major project across river Kaddam, a tributory of Godavari near Peddur(V), Kaddam(M),Adilabad District, Telangan Region, AP, India. The project is envisaged to irrigate an ayacut of 68,000 Ac.Khariff. The Kaddam Project has been integrated with Sriramasagar Project. The reservoir being supplemented through Sriramasagar Project, Saraswathi Canal to stabilize the localized ayacut.

Kadam Project Deatails
Year of completion: 1964
Height of Dam (Above deepest F.L.): 35.70M
Height of Dam (Above lowest Bed Level): 30.70M
Impounding capacity at F.R.L: 7603 Mcft
Top of dam: + 215.70M (708ft)
Max. Water level: + 213.21M ( 700ft)
Full reservoir level: + 213.21M ( 700ft)
Dead storage capacity: 78.70 M.cum
Length of the Dam (at Crest ) in Meters: 378M
Type, Number and Size of Spillway gates: Vertical/total-18 Gates ,9Nos 18.30x6.30M,9 Nos 18.30x4.60M
Other Projects
Ellampalli Project on Ellampalli at Mancherial.
Vattivagu Project on Vattivagu
Satnalavagu project on Rallavagu
Chelamalavagu project on Chelamalavagu at Ekkapally village.